BEnd Oregon Dog Grooming
Welcome to Deschutes Dog Salon serving all of Bend Oregon. We've provided full-service grooming for Bend Oregon pets for many years, building a high reputation for excellent pet care and service. To see for yourself, please drop by, or give us a call anytime!
Deschutes Dog Salon in Bend Oregon is an all breed professional dog grooming salon located at 910 SE Wilson Suite B1 on the East side of Bend. We offer a wide range of services to help keep your pet clean and well groomed. Whether your pet needs a formal grooming, a cleansing bath or their nails trimmed, Deschutes Dog Salon offers it all! At Deschutes Dog Salon in Bend Oregon, we are much different from the "standard" grooming shop. Your pet is your four-legged friend, child, and loved one. We strive to make the grooming processes an enjoyable and pleasant experience for your pet. We know it is important that your pet is comfortable and relaxed during their stay with us. We pride ourselves on providing your pet with personal attention in a clean friendly environment.

Animals love Deschutes Dog Salon. They Enjoy a Calm, Stress-Free Environment. Treat your pet today to all natural, therapeutic services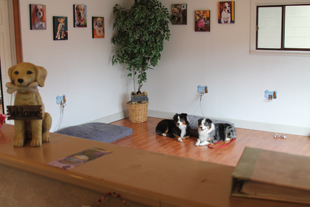 Pet Grooming Services
- All Breed Dog and Cat Grooming
- Full Service Grooming and Bathing
- Hydro-Surge Massage Bathing
- Weekly & Biweekly Discounts
- All Natural Shampoos
- Over 20 Years of Experience
- Open Mon-Sat Call For Hours
- Gift Certificates Available!